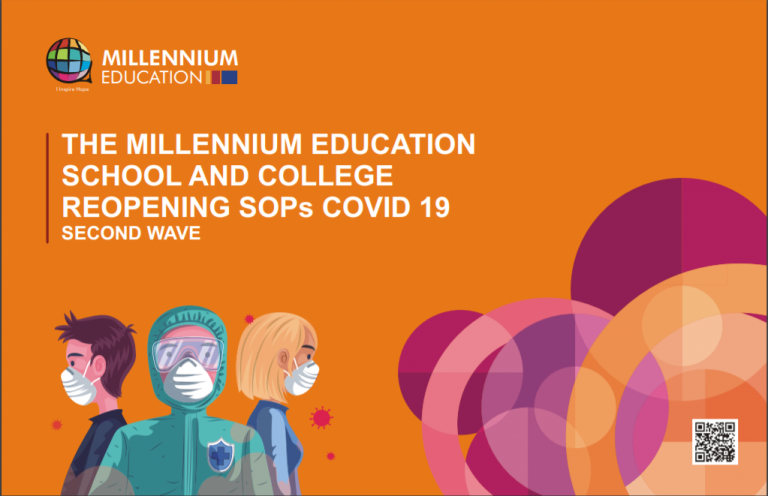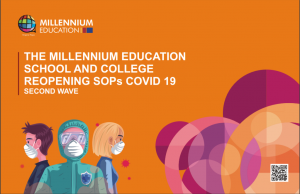 Welcome Back to School/College Reopening 2nd Academic Term Jan-June 2021
Dear Parent/Guardian,
The Millennium Education warmly looks forward to welcoming our learners of Grades IBMYP IV-V, IGCSE I,II,III, Matric IX , X , AS and A Level for FACE-2-FACE CLASSES on Monday 18th Jan 2021 as per NCOC directives following all COVID SOPs.
The theme for this academic year is The Year of Diversity and Digital Inclusion as envisioned by our worthy CEO, Directors and GMs. By working in collaboration with you, we can help our Millennial experience an inclusive environment that is conducive to learning and growth.
We would also like to thank you all for your support throughout this unprecedented and challenging time.  It is our shared responsibility to adapt the new norms regarding health/safety requirements and the guidelines given by the school/college, to make FACE 2 FACE education possible and become able to continue our struggle towards our goals. To ensure uninterrupted teaching and learning at TME,  you must read COVID Safety Plan and Guidelines shared on the link http://rb.gy/gjqshv.
Throughout the year, we will communicate with you through *MATRIX (Learning Management System), *Mobile App (TME/Future World), Diary Notes, Telephone Calls, Progress Reports, School E-Newsletters and Notices/Circulars).
We wish you a happy return to our physical schools/colleges and academic community.
For further updates please click here
Online Digital Teaching and Learning Academic Action Plan
Dear Learner/Parent/Guardian,
THE BUILDING IS CLOSED; THE SCHOOL IS OPEN. We would like to express gratitude to our learners and the parental community for their extended cooperation with the school and teachers during the difficult times of the first wave of pandemic, thus strengthening the home school agreement and the social contract. As per the recent government and NCOC directives for school closures, educational institutions are once again shifting to the Online Digital Teaching and Learning mode which has been a rewarding experience in terms of digital continuity of academic timelines, course works, and curriculum along with the online assignments, assessments, and examination conducted to ensure progression and attainment.
Online Digital Academic Action Plan
The Online Academic Action plan shall continue during the closures and we shall proceed with syllabus completion, reinforcement of the taught concepts, assessments, assignments, project submission, and academic term progression as per our regular academic routine and timetables. TME Learning Management System (MATRIX) is a cloud hosted, integrated, flexible and secure dynamic platform that allows Millennium Education to manage the organization through the web, any time and any where in the world. It establishes connectivity between campuses, teachers, Millennials and parents in a most effective manner. To assess learning for the first academic term consolidated E-Progress / Result Cards shall be shared with the parental community through the Learning Management System (MATRIX) and Parent-Teacher Meetings would be organized either online or face-to-face, as per the academic calendar and COVID situation. This online academic action plan offers more flexibility and real-time engagement for our learners in terms of online mode of teaching and learning, assessments, online exams, quizzes, assignments, and projects for evidence-based grading and progression. The schedule and timelines shall be shared by school and college leadership as and when required. We expect a strong digital attendance and online punctuality from our learners on Microsoft Teams in our quest for an effective online teaching and learning ecosystem. From our recent experience of COVID closures and online education, we have learnt that through digital inclusion, there is more trust between the teacher and the learner, enhancement of digital literacy skills, and Information Communication Technology integration.
Parental Facilitation and Responsibility in Support of Online Teaching and Learning
For an effective collaboration in support of academic rigour, we shall continue the student-work on notebooks / copies, and worksheets, thus we need your facilitation, involvement, and engagement as the school administration office shall remain open throughout the pandemic. You may coordinate with the campus administration and submit notebooks and other resources for regular checking and feedback from the subject, class, and homeroom teachers. This shall help our learners stay in connection through the online classes and receive reflective feedback on their performances on weekly basis as assigned by the teacher. Your cooperation in this regard is highly anticipated.
Online Classes and Winter Break
All tiers from Play Group till A Levels, shall go online from Thursday, 26th November 2020 across TME Campuses. Subject-wise work updates and academic resources will be available on Connecting Classrooms module of MATRIX 5 days a week i.e. from Monday-Friday. The online classes shall be conducted on Microsoft Teams, timetables will be available on LMS and Microsoft Teams. Your respective campuses will share the username and password details, and tutorial links for learners.
Winter Break shall commence from Friday, 25th December 2020 and continue till Sunday, 10th January 2021.
Face-to-face teaching and learning shall resume from Monday, 11th January 2021, subject to COVID-19 situation and the government notification. We shall communicate and update changes, if any, to the existing timeline through emails, SMS, LMS (MATRIX), Facebook, and on website.
Early Years (Play Group, Junior Year, Advanced Year)
Timings for Online Classes – MS Teams
Monday-Friday : 10:00 a.m.- 12:00 noon
Primary Years (Grades 1,2 & 3)
Timings for Online Classes – MS Teams
Monday-Friday : 9:00 a.m.- 12:30 p.m.
Primary Years (Grades 4 & 5)
Timings for Online Classes – MS Teams
Monday-Friday : 9:00 a.m.- 1:00 p.m.
Middle Years (Grades 6,7 & 8)
Timings for Online Classes – MS Teams
Monday-Friday : 9:00 a.m.- 1:00 p.m.
Upper Middle Years & College Years (Matric, IB-MYP, IGCSE, AS & A-Levels)
Timings for Upper Middle Years and College Years
Monday-Thursday : 8:00 a.m. – 2:30 p.m. (Subject to timetable)
Friday Timings : 8:00 a.m. – 12:40 p.m. (Subject to timetable)
We wish our learners a digitally inclusive and happy learning experience and expect strong support from our parental community as well as learners to enjoy uninterrupted online teaching and learning till the resumption of face to face classes.
Regards,
Humaira Aslam
Director Teaching and Learning
The Millennium Education | TME
humaira.aslam@millenniumschools.edu.pk
Direct Landline: 051-2375201-5 ext: 333
Learner/Parent/Guardian Support Helpline Numbers
COVID Online Digital Teaching and Learning Support Team Early Years to Grade 8
Ms. Asma Saleem +92 323 9285663 (for academic queries Early Years to Grade 8)
Muhammad Muslim +92 335 5166648 (for LMS-MATRIX, username, password, downloads, and online-support queries)
COVID Online Digital Teaching and Learning Support Team IGCSE, Matric, IB-MYP, AS and A-Levels
Mr. Waqas Mather +92 3328315411 (for academic and digital queries for IGCSE, Matric, IB-MYP, AS and A-Levels)
Muhammad Rafay +92 3325422838 (for LMS, username, password, downloads, and online-support queries)