How do we instil a love of learning?
Put simply, inspiring teachers inspire learning. Pupils are hand-picked for their ability to think; dons are selected for their enthusiasm, dedication and expertise.
The Millennium Education (TME) proudly announces the successful launch and implementation of Cambridge Secondary 01 Programme nationwide for our learners of Grades VI-VIII as Cambridge Primary Checkpoint and Cambridge Checkpoint respectively. Commencing nationwide in the academic session 2019-2020, TME introduced Grade VIII as an extension of Cambridge Checkpoint Grades VI and VII to offer the last year of this Middle Years' Programme for Learners of age 11-14 years. This means that our Grade VII checkpoint learners shall now be promoted to Grade VIII checkpoint and shall now avail this full academic year for a better preparation required to enter Cambridge IGCSE levels.
Cambridge Checkpoint tests are designed for learners who are beginning courses leading to Cambridge IGCSE or Cambridge O Level Examinations in English, Mathematics, and Science. Our Grade VIII Millennials shall appear in Secondary Checkpoint Test May Series 2020 and attempt CAIE papers that will be externally marked using Cambridge Checkpoint scores. At the end of the Checkpoint Exam, each learner will receive a statement of achievement and a diagnostic feedback report. These exams will be optional, and learners will be registered for the mentioned subjects with the consent of their parents. Moreover, this shall not affect those learners who do not qualify for this exam. They shall be taking their home exams for Grade VIII.
How would Learners benefit from Cambridge Checkpoint?
Millennials would benefit from Cambridge Checkpoint as these tests are designed for learners who are beginning courses leading to
Ø Cambridge IGCSE® or
Ø  Cambridge O Level examinations in
 £ English
£ Mathematics
£ Science
Cambridge Primary & Secondary 1 English
English Curriculum develops a competency in English comparable to first language speakers by developing confident and creative learners, capable of applying their skills to respond to a range of information, media and texts with enjoyment and understanding.
Cambridge Primary & Secondary 1 Mathematics
The Mathematics Primary and Secondary Curriculum framework is presented in six content areas-number, algebra, geometry, measure, handling data and problem solving.
Cambridge Primary & Secondary 1 Science:
Cambridge Primary and Secondary Science Curriculum Framework covers four content areas-scientific enquiry, biology, chemistry, and physics. Scientific enquiry is about considering ideas, evaluating evidence, planning investigative work and recording and analysing data.
Major Highlights of Cambridge Secondary 01 Programme
Over 10,000 schools in more than 160 countries offer Cambridge Programmes and Qualifications. £ Cambridge Primary & Secondary Checkpoint are designed in the key curriculum areas of English, Mathematics, and Science. £ The Results of the tests for the whole subject and for each topic/skill are reported on standardized scale of Cambridge Checkpoint Scores that range from 0.0 (a low level of achievement) to 6.0 (a high level of achievement)
Facts and Figures Cambridge programmes and qualifications
Every year Cambridge receives nearly 102,000 entries for Cambridge Lower Secondary Checkpoint, Cambridge tests for 11 to 14year olds. Cambridge IGCSE is the world's most popular international qualification for 14 to 16-year olds. It is taken in over 145 countries and in more than 6,100 schools around the world.
Regulation
 Cambridge is recognised for the provision of a number of qualifications by Ofqual (Office of Qualifications and Examinations Regulation) the UK government's regulator for awarding organisations and regulated qualifications in England and also recognised in Wales by Qualifications Wales and in Northern Ireland by CCEA.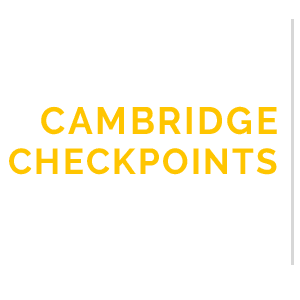 Research has shown that Checkpoint scores are good predictors of performance in Cambridge IGCSE and O Levels examinations.
Students with the same Checkpoint score will achieve a range of Cambridge IGCSE grades, because some will work harder and learn more than others.
Naturally, students can do better than their predicted grade if they work harder. They will achieve less if they do not put in the effort.
Registrations and Admissions Now Open for Academic Year
2020-2021
Registrations and Admissions Now Open for Academic Year
2020-2021