MATRIX Release Notes
for Students/Parents/Guardians
The Millennium Education is pleased to announce that we are ready to begin providing our parents & Students with access to our latest product update version, Release 2023.1.
DEPLOYMENT DATE: FEBRUARY 20, 2023
Millennium Learning Management System is an integrated learning management solution that provides course management, mobile learning, and support for system-wide communication. Millennium Academic Technology Real–Time Information Xchange (MATRIX) enables our students, parents, and teachers to engage with learning materials and their campus community for the classroom and beyond.
Course Media
The course Media tab provides a course-based repository in a single gallery. The content available is for English, Mathematics, and Science.
The repository can be accessed by the students or parents to find content related to different topics which are being covered in the classroom.
The content is available in multiple file formats and ranges from games, videos, audio, PPT, and word documents.
The content is a complementary add-on that can be used by the students to clear their concepts and share their feedback with the teachers where applicable.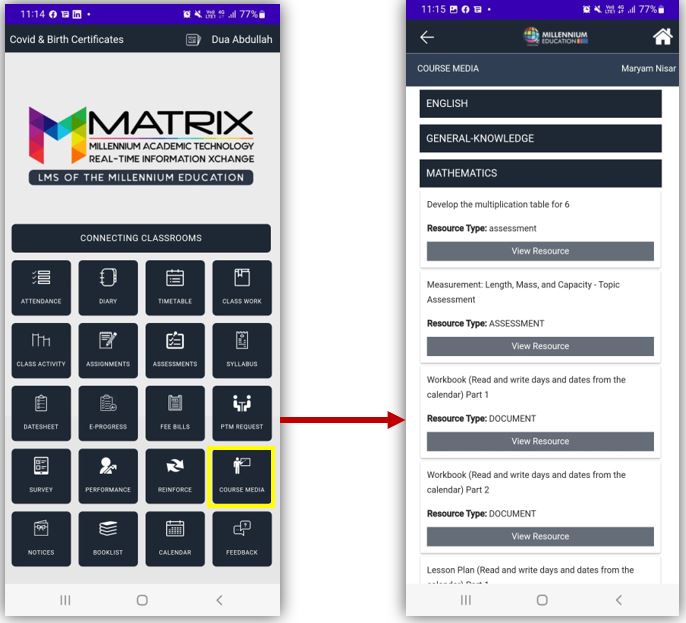 Performance
The performance tab has undergone a few enhancements to provide analytical insight to the parent regarding their child's attendance, assignments, and assessments.
As a parent, you can check the attendance details for the current session as well as the progress regarding the assignment. At a single glance, you will be able to see the assigned vs submitted ratios for all the subjects.
The assessment tab will list all the subjects and provide details regarding all the assessments conducted for the current academic year. You can check marks in each assessment by further selecting the assessment.
Each question defines the learning outcome for the learner.
A red flag is used to identify that the relevant subject needs attention; the parent can further review the assessments which have been flagged to identify the area where the child needs improvements and further assistance.
The area where the child needs assistance will be identified along with the resources which can be used.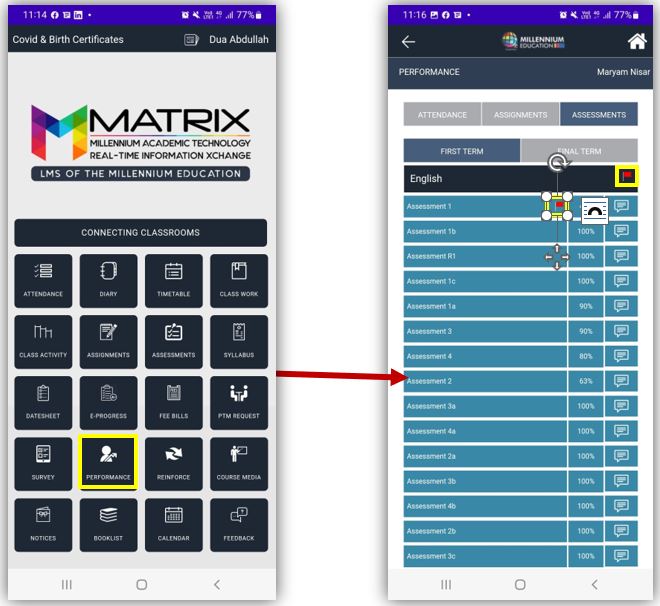 Notifications
The smart alerts have been integrated into the app. The number badge appearing against the modules will identify the number of updates that are to be reviewed by the parents.
Any update related to the diary, classwork, class activity, assignments, and assessments will be identified by the number badge.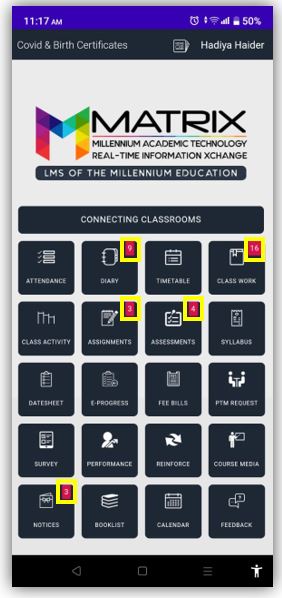 Please contact TME – LMS Team if you have any questions.
Thank you,
lms@tme.edu.pk