Ready to Give Your Child the Ultimate Summer Adventure?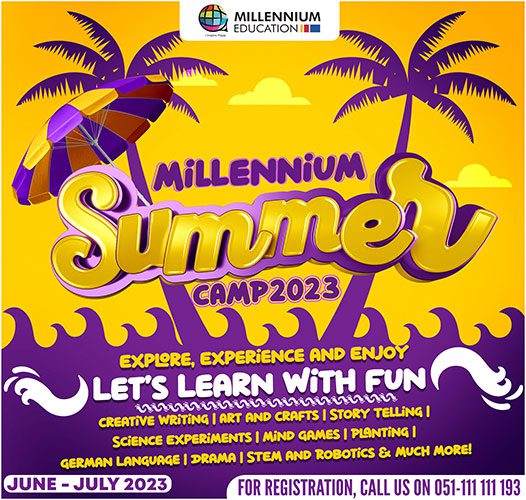 Look no further than Millennium Summer Camp 2023! – the ultimate destination for an enriching and unforgettable summer experience for your child!
Our camp offers a diverse range of activities designed to ignite your child's curiosity and expand their horizons. From exploring the wonders of science and STEM to learning the life skills and honing their creativity through drama and creative writing, your child will experience the summer of a lifetime with us.
At Millennium Summer Camp, we believe in the power of learning and exploration. Through our engaging programs, your child will have the opportunity to delve into a variety of exciting disciplines. Here's a glimpse of the activities we offer:
Reading with Phonics: Cultivate a love for reading and develop strong literacy skills through interactive phonics sessions.
Storytelling: Unleash imagination and creativity by immersing in the world of storytelling.
Music: Discover the joy of music through instrument exploration and rhythm exercises.
Art & Craft / Painting: Unleash creativity and explore various art techniques in our vibrant art sessions.
Creative Writing: Nurture the power of expression and imagination through engaging writing exercises.
Science Mania: Embark on a thrilling scientific journey and engage in hands-on experiments.
Mathematics Buzz: Develop strong mathematical skills through fun and interactive activities.
Fireless Cooking: Learn the art of cooking without flames and create delicious culinary masterpieces.
Scavenger Hunt: Engage in team-building and problem-solving through exciting scavenger hunts.
Active Workout (Yoga, Zumba & Aerobics): Stay fit and healthy while having a blast with our dynamic fitness sessions.
Space Exploration: Embark on an intergalactic adventure and discover the wonders of the universe.
STEM-R: Engage in hands-on STEM (Science, Technology, Engineering, and Mathematics) projects that encourage innovation and critical thinking.
Performing Art / Theater / Movie: Unleash your child's creativity through captivating theater and movie experiences.
Environmental Protection & Management: Foster environmental awareness and learn the importance of sustainable practices.
Financial Literacy & Entrepreneurship: Instill essential life skills by exploring financial literacy and entrepreneurial concepts.
Life Skills: Equip your child with valuable skills like problem-solving, decision-making, and time management.
Public Speaking: Build confidence and effective communication skills through public speaking exercises.
Karate / Sports: Learn discipline, self-defense, and the importance of physical activity through martial arts and sports.
At Millennium Summer Camp, we are dedicated to providing a safe and nurturing environment for your child to learn, grow, and make lifelong memories.
Join us now for Millennium Summer Camp 2023 and give your child the gift of an unforgettable summer adventure!
Date: 12th -23rd June 2023
Timings: 9:00 am to 12:00 pm
For fee details, please call on 051-111-111-193 or visit your nearest campus.