Millennials Secured Remarkable Achievements in World Scholar's Cup Islamabad Round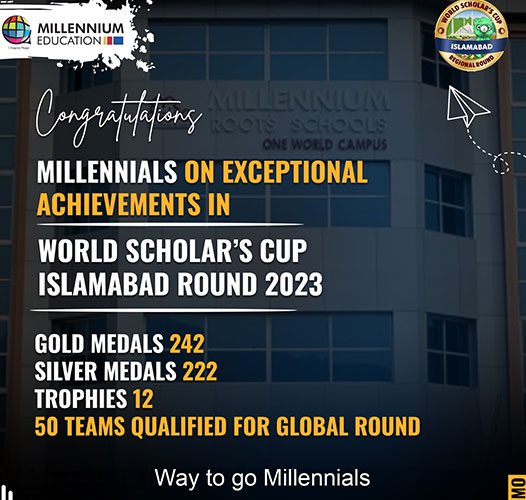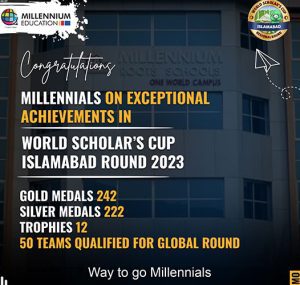 We are delighted to share with you the incredible achievements of our Millennials in the World Scholar's Cup Islamabad Round 2023! Our 50 teams from TME and FWS have qualified for the global round by securing 242 Gold Medals, 222 Silver Medals, and 12 Trophies in an international academic competition that challenges learners to showcase their critical thinking, teamwork, and problem-solving skills. The competition consists of four events: team debate, collaborative writing, individual multiple-choice tests, and a scholar's challenge. It is a global platform for students to connect with like-minded peers from all around the world and engage in intellectual discussions on a variety of subjects.
This remarkable achievement is a testament to the hard work and dedication of our learners, as well as the unwavering support of our faculty and staff. We are proud to see our learners excel in such a prestigious international competition and represent our school with such distinction.
At TME, we strive to provide our learners with a holistic education that not only focuses on academic excellence but also encourages them to develop their critical thinking, communication, and leadership skills. The World Scholar's Cup is an excellent platform for our learners to showcase their talent and compete with the brightest minds from around the world.
We would like to congratulate all the participants and winners of the World Scholar's Cup Islamabad Round and wish them the best of luck for the Global Round. We are confident that they will continue to make us proud and excel in all their future endeavours.