Roots Millennium School Now in Valencia Town Lahore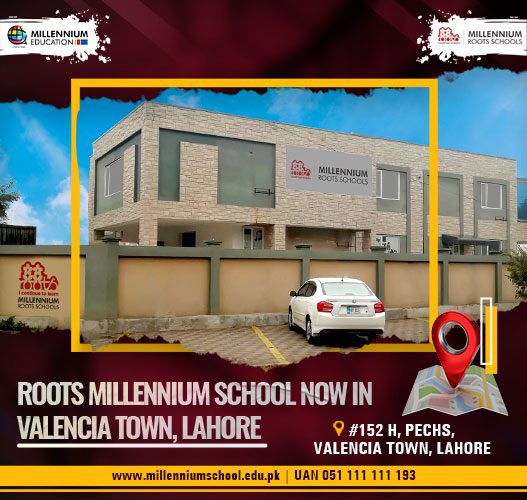 The Millennium Education is proud to expand its reach to better serve the community of Lahore as we announce the launch of our new campus in Valencia Town, Lahore.
For over three decades, The Millennium Education has been sponsoring educational change, opportunity, achievement, excellence and excitement across schools, communities, towns and cities through its student-centered education system.
The launch of Roots Millennium Schools, Valencia Town, Lahore is a part of our unwavering commitment to providing a lifelong experience and world-class education to students while also supporting the growth and development of the local community. The new campus offers a range of academic programmes such as Early Years, Primary Years, and Middle Years Programmes using the best practices for an exceptional education that prepares students for success in whatever path they choose. In addition initiatives like the German and Chinese Language Programme, STEM and Robotics Programme, Millennium WWF Green School Programme, Millennial Global Summer Outreach Programmes and many other.
Roots Millennium School, Valencia Town, Lahore will provide students with access to state-of-the-art facilities, as well as a supportive and nurturing learning environment. The campus has well-equipped science labs to provide learners with hands-on experience. Our Early Years Learning Center is designed to ensure that the child develops all the necessary skills. The State-of-the-art fully equipped ICT lab for the learners provides access to advanced interactive technology. In addition to these facilities, the school also possesses well-stocked library, multi-purpose sports area, first aid center, green café and many more to ensure the learners develop personally and academically and indulge in a holistic experience on campus and make memories to be cherished forever.
So, don't wait and provide your children with a memorable experience by enrolling them now at Roots Millennium School, Valencia Town, Lahore.
We are excited to be part of the community and to help our learners achieve their dreams. For admissions call now on 051-111-111-193 or visit us.