British Council Notification For Cancelled Exams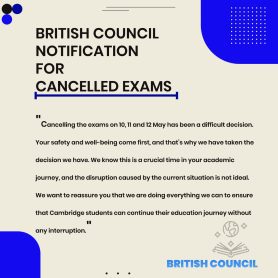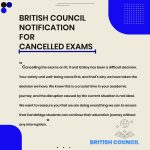 Dear Principal / Coordinator
We are writing to inform you that British Council has taken the decision to cancel Cambridge school exams scheduled on Friday 12 May for both AM and PM sessions due to the unsafe situation in the country and our duty of care towards our candidates and all British Council staff.
Following our previous email sent today we would like to reiterate that we are actively working with Cambridge to agree next steps, and we will provide more information as soon as possible.
At the British Council, our aim is to provide expert operational and educational support for our Partner Schools at every opportunity and at every level – making a difference to young lives in local communities, across the world. We thank you for your understanding and continued support during this challenging time.
Amir Ramzan, Country Director, British Council Pakistan and Uzma Yousuf, Country Director, Pakistan, Cambridge University Press and Assessment, would like to express their support for candidates and parents during this difficult time and would be grateful if you could pass this message on to your students and their parents:
"Cancelling the exams on 10, 11 and 12 May has been a difficult decision. Your safety and well-being come first, and that's why we have taken the decision we have. We know this is a crucial time in your academic journey, and the disruption caused by the current situation is not ideal. We want to reassure you that we are doing everything we can to ensure that Cambridge students can continue their education journey without any interruption.
"Our team is continuously monitoring the situation, and we will keep you updated as we have more information. We are completely committed to providing a safe and secure environment for you to sit for your exams."
Regards,
British Council