ROOTS MILLENNIUM EDUCATIONS SIGNS MOU WITH PECHS VALENCIA LAHORE
Spreading side-ways!
A new brick has been mounted in the wall of The Millenium Education TME while signing of the MoU with Pakistan Expatriates Co-operative Housing Society PECHS (Valencia) Lahore. This MoU comprehends the need of quality education for national advancement and prosperity as well as for individual corporate agency of development.
The two organizations mutually decided to expand their collaboration in a variety of ways, including offering special discounts to the children of employees and residents of the PECHS community. At The Millennium Education Group, we are dedicated to providing quality education and showcasing the transformative power it holds. Our aim is to open doors within communities and provide Pakistani youth with the opportunity not just to dream, but also to achieve their dreams.
Through this Education Programme, TME seeks to establish partnerships with different cooperative settings to extend privileged discounts to their children, working towards our common goal of educating Pakistan and nurturing its future leaders. Together as a hand holding candle, this would mean a change in the education system of our country. Signing of the MoU stands witness to this cooperative initiative of how committed both institutions are to improving societal well-being and offering top-notch education.
This Memorandum of Understanding's central goals lie in the commitment of fostering corporate partnerships, focus on quality Education provision, and professional growth. Dr. Faisal Mushtaq, CEO TME Group, has remained dedicated to his belief in the importance of encouraging academic excellence, student performance, social entrepreneurship, and equal opportunity for all. He believes that giving them the best possible platform will be crucial in assisting them in achieving their objective of being admitted to the best colleges in the world. Therefore, his steadfast commitment to leading by example and creating opportunities for others to emulate sets an unparalleled standard in fostering progress and development. Driven by his visionary outlook, he strives to cultivate a culture of excellence, empowerment, and innovation within the realm of education.
Over the 35 years of its educational legacy, TME has not only demonstrated its commitment to education but also effectively collaborated with various learning programs such as Knowledge Platform, StoryKits, and other esteemed institutions. Standing tall to its mission, The Millennium Education continues to prioritize local perspectives and address specific needs.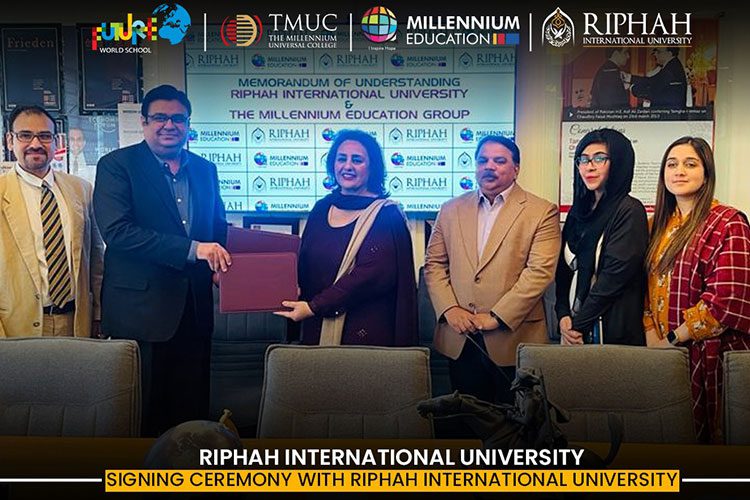 Congratulations on the signing of the Memorandum of Understanding (MoU) between The Millennium Education (TME) Group and Riphah International University (RIU) at TME Head Office today. The main purpose of this Memorandum of Understanding is to promote industry-academia linkages, corporate collaborations, and professional development.
Through this MoU, TME shall be extending corporate employee education benefits to the children of RIU employees, while RIU has agreed to offer hospitals and dental college services to TME and school employees, and learners at a discounted rate. This collaborative effort is a testament to the dedication of both institutions to academic excellence and enhancing societal well-being.