TME Collaborates with Rotary International for Empowering Learners.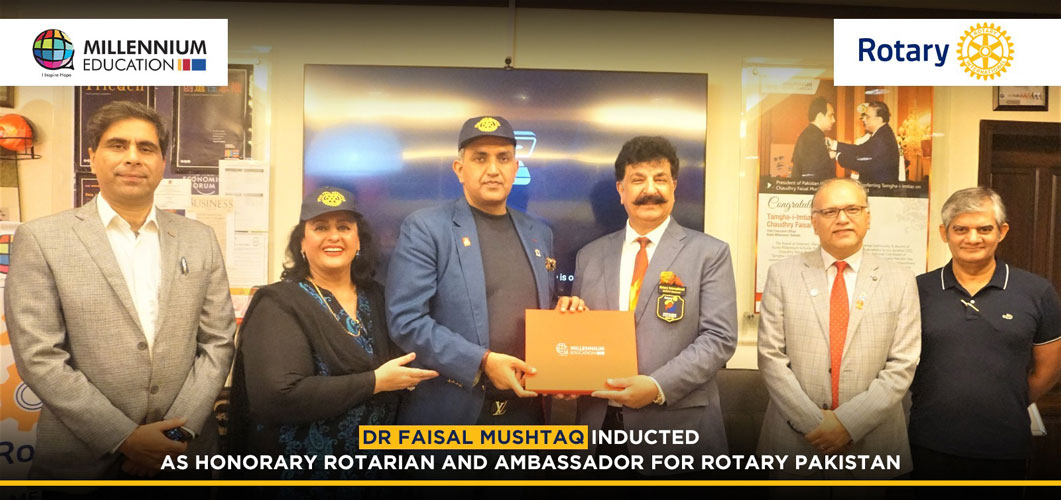 TME assures a line in position of its collaboration, initiatives and MoU. To mark another milestone, The Millennium Education Group has committed to another level of human services and signed a MoU with Rotary International. To another level of admiration but not surprise, CEO Dr. Faisal Mushtaq TI has been entitled to Honorary Ambassador Rotary Pakistan and TME stands as partner to the institute with a promise to collaborate and coordinate in the orbs of,
Promoting peace.
Fight disease
Provide clean water, sanitation, and hygiene.
Save mothers and children.
Support education
Grow local economies.
Protect the environment.
Global standards may enervate the current systems as a result of the educational sector's ongoing development due to continuous global transformation. Global mindfulness lies at the heart of institutional value and to coincide with transformation, TME nevertheless attempts to satisfy the requirements of a modern learning system. The Millennium Education System instills digital learning tools, fosters standardized curricula, and promotes educational change. While the purpose-built school under the group support a purpose induced learning, Rotary glorifies the values of a Millennial.
Rotary is an international network of 1.4 million people, founded by Paul Harris in 1905. The Rotary Club is focused on producing the next generation of leaders. Younger leaders can develop their leadership abilities, further their education, and understand the importance of service through their programs. The Rotary Peace Centers program builds the capability of peace and development professionals to become effective peace catalysts via academic training, practice, and worldwide networking opportunities. Additionally, Rotary members offer their knowledge, experience, and resources to assist tackle some of the world's most difficult issues, from supplying clean water to fostering world peace.  Through these programs, students can learn a new language, get to know a different culture, and develop into true global citizens.
This Memorandum holds Rotarian and their children eligible to fee waivers and learning access on various accounts and maneuvers a future of Welfare, Community work and education at one place. AS Charles Darwin stated, "It is the long history of humankind (and animal kind, too) that those who learned to collaborate and improvise most effectively have prevailed."